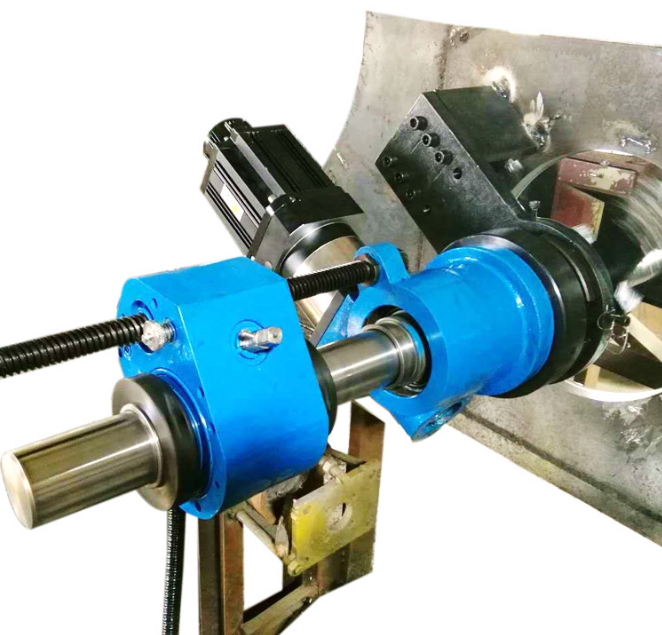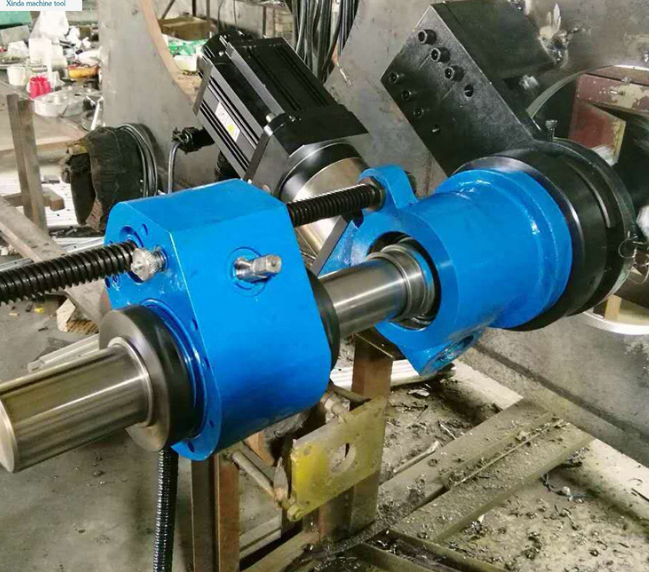 T60 portable line boring machine
T60 portable line boring machine are mobile welding and lathes that can be used to carry out repairs directly on site using automatic / mechanized build-up welding
and subsequent processing with one and the same machine, simply by exchanging tools, bores or shafts (from 30 to 200 mm in diameter).
The T60 is attached to the defective device (excavator, crane, wheel loader, caterpillar, crusher, etc.)
usually without major dismantling of the defective parts and without any special knowledge on the part of the user and then by one or more build-up welds
and subsequent machining Machining again with 100% safety in alignment and repaired to the original size,
which has an effect on a much longer service life (⅓) of the very cost-intensive bolts and bushings.


T60 portable line boring machine is a versatile and modular mobile line boring machine, With the help of our mobile boring machine, rattling,
worn-out pin bearing points as well as worn, no longer perfectly fitting bores for plain bearing bushes or roller and joint bearings can be repaired.


Technical specifications
Weight: 23.5 kg
Dimensions: 820 × 300 × 300 (L × W × D)
The housing, gear block and machine box are made of AlZn5Mg3Cu, a material used in aerospace engineering.
All mechanically stressed components exposed to wear, such as quill, boring bar, etc. are made of high-quality steel, surface hardened and precision ground.
For work in the diameter range: from 30 to 200 mm (with extension 300 mm)
with addition also bigger.
Boring bars: diameter / length 45 × 780 mm, 32 × 460 mm, 20 × 500 mm
The boring bars can be extended by a plug-in system.
The tool mounting holes on the boring bars with a diameter of 45 mm have a diameter of 16 mm so that standard cutting tools can be used here.
Motors: The rotary motor is a powerful 1600 W Duss electric motor with a robust, mechanically switchable 4-stage gear. The speed of the motor is infinitely variable from 0% to 99%,
electronically adjustable.
The feed motors are 24 V DC gear motors, the rapid feed motor is equipped with a motor brake, which can also be electronically regulated from 0% to 99%.
All motors are manufactured to the highest standards of quality, reliability, durability and robustness, which is essential for the tough and
tireless use of our T60 devices .
Working stroke: 250 mm stepless, electronically adjustable from 0-25 mm / min
Rapid feed: 1 m / min
Control: The control is not exposed to mechanical wear due to the membrane keyboard and has the most modern components of the control electronics (220 V / 50-60 Hz)
Burner: gas-cooled, 160 A
Welding device: any MIG / MAG welding machine
(recommended at 100% ED 140 A)
Hose package connection: EURO Standard / Binzel with a length of 3 meters
Rotation speed: The rotation speed of the welding head is electronically adjustable from 0 to 5 rpm.
Welding feed: The welding feed is set at 3 mm / rev. The feed when turning is infinitely variable and electronically adjustable.
The processing of blind holes must be carried out with an appropriate adapter (accessory)!

Specifications & Accessories

Standard Boring Bar (customizable)
40*1500 mm (1.57*59 Inches)
45-200 mm (1.77-7.87 Inches)
Feed Speed
1.5kw electric motor